It's been almost a month since I started my journey in the FinTech world and there was no better place to learn how technology is disrupting the payments industry than Marqeta. I have been fascinated by the technology stack and the innovation that Marqeta has put into building a modern payments platform. In this blog post, I wanted to share some basic understanding of payments, how Marqeta fits in and how Marqeta is disrupting the payments industry.
Merchants need to accept payments for goods and services. In order to do this, there needs to be an infrastructure enabling the transfer of funds from the consumer to the merchant. Cards are an attractive and convenient method for enabling these transfers. Fundamentally, cards are powered by massive card networks (i.e. Visa, MasterCard, etc.). Issuers have been authorized by the card networks to generate cards. In order to accept these cards, merchants sign up with acquirers, sometimes through payment gateways, in order to facilitate payment on these cards.
A card is swiped at the point of sale or entered online through an ecommerce portal. The card goes to the acquirer and then to the card network. The card network then sends the transaction to the issuer processor, which will approve or decline the transaction. All of this happens within milliseconds.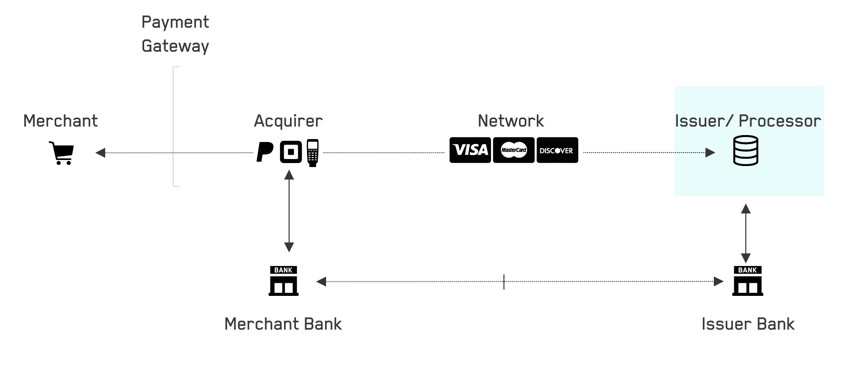 Historically, the underlying systems supporting these cards have been very inflexible, as well as difficult to implement and support. Most of the rules embedded in this process are static with limited to no control for businesses. Transaction processing in binary — transactions are either approved or declined.
While this worked in the past, the way we shop, use on-demand services or transact has changed dramatically. Digital payments using mobile devices, digital wallets (i.e. Apple Pay or Android Pay), virtual cards and the emergence of on-demand services is dramatically changing the payments industry.
New business models for contract workforce, on-demand services, and alternate lending require a modern approach where customers need more control over how payments are processed. The underlying systems supporting the payment cards should specifically address the needs of businesses needing to authorize their own transactions using simple, and flexible yet powerful development frameworks and platforms.
Enter Marqeta — the next generation payments platform that empowers businesses to offer and manage card products. This means providing physical, virtual, or tokenized cards to end-users. These cards could be credit, debit, or prepaid, and users could be consumers, employees, or even 1099 contractors.
Marqeta is an issuer processor with an open API that includes rich features like Just-In-Time "JIT" funding, tokenization, and deep flexibility, enabling real-time management of nearly all aspects of card programs. Fundamentally this means that Marqeta enables cards to be created and also processes payments when these cards are used at merchants. With JIT funded programs, cards carry a zero balance and get funded in real-time for the exact amount of the transaction when used — businesses therefore have full control over authorizations as well as amounts to fund that specific transaction. Developers use Marqeta's open API to embed business logic and rules that facilitate a set of actions and processes the transaction.

The Marqeta Platform is built on modern technology that is highly secure, scalable and elastic for processing large volumes of transactions in real-time. This fast, intuitive, and feature-rich solution is unique and unparalleled in the issuer processor space. The platform has comprehensive and powerful features for various stages in the payment process:
Card Setup — Issue virtual and physical cards, load virtual/physical cards into Apple/Android Pay
Card Usage — Set advanced spend control, Just in Time "JIT" funding
Support tools — Program Dashboard, Marqeta.js
Additionally, Marqeta offers a variety of supporting services, including things like KYC, data analytics, production support, fraud prevention, legal expertise, applications for card program administration and PCI compliance.
Businesses also use Marqeta as a Program Manager. As a Program manager, Marqeta manages the card program on behalf of the issuing bank. The bank contracts directly with the program manager. The program manager is responsible for things like — issuing of cards, loading of funds, network approval, program definition, sponsorship and processing agreements with the issuing banks, marketing to consumers and merchants, operating the program and managing its profitability. The bank also looks to the program manager to manage compliance with network rules and regulations.
I hope this overview was helpful in understanding where Marqeta fits in and how it is disrupting the payments industry. In the next few blog posts, I will dive into some of the key features, and share some customer success stories.