Greetings! We recently hosted a webinar "How OTAs can take back control of transactions" where we discussed supplier payments, specifically for Online Travel.
Virtual commercial cards are the norm when it comes to paying suppliers within the online travel sector. Although virtual card solutions have provided significant operational and economic benefits to travel companies, there is a need for more control over each outgoing supplier payment. This is possible with a modern issuing processing platform.
Traditionally, OTAs on the forefront of technology are those that have had the most success. Technology that leads to efficiencies allows the travel company to focus on their core business. The impact of supplier payments on both the front-end customer and back-end supplier experiences. A smooth check-in process requires an accurate, easy to use and available payment method. Partnering with technology first payment companies gives many advantages.
Online travel companies that use virtual card solutions have solved for three of the four critical problems. Payment providers allow OTAs to1) to issue cards in real-time 2) approve transactions in real-time at check-in 3) add rich booking data to the payment communication and settlement files for reconciliation. What these traditional payment suppliers have not solved for is the ability for OTAs to decision each payment authorization in real-time using their own business logic.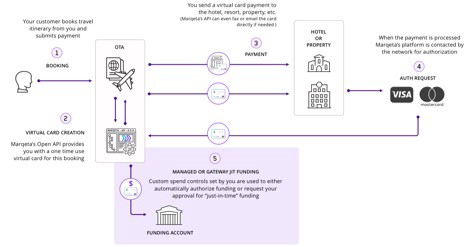 Marqeta supports prepaid virtual cards like other virtual card providers, but we also offer a few additional and vital options to support a business' payment program via Just-in-Time (JIT) funding: Managed JIT and Gateway JIT are two flavors of this feature. The main difference between the two types is that instead of controls set on the Marqeta platform that managed Just-in-Time (JIT) provides, the control sits solely with OTAs with Gateway Just-in-Time (JIT). Managed JIT allows the OTA to embed the business logic rules with Marqeta. OTAs can set spending limits, restrict spending by the merchant, or merchant category in addition to a number of other controls. With Gateway JIT, Marqeta does a real-time call out to the OTAs backend system to see whether a transaction should be authorized, directly allowing the OTA to be involved in the approval of a transaction. Gateway Just-in-Time Funding (JIT) does provide OTAs the ultimate level of control as they can decide each transaction based on their own business logic.
Transaction and payment flow with Marqeta
To recap, JIT funding provides the ability to:
- Fund transactions in real-time; no more managing funds on and off cards
- Transaction authorizations; inject yourself into the authorization decisioning to take the guesswork out of card funding
- Enter your business logic: When OTA's are making authorization decisions, they can leverage their own data, their own fraud rules, and their own business logic as granularly as they would like, and potentially apply different rules for different types of transactions depending on the traveler, the hotel, or the geography
Skiplagged, an online travel company that makes it easy for you to find the best rates on airfare and hotels chose Marqeta to help them simplify payments for hotel bookings. Tazmun Nahar, Head of Partnerships & Business Development, shared the ease of integration with Marqeta and how she received best practices throughout the process. Importantly, she also mentioned how seamless the "go live" process was for Skiplagged — there was no interruption for the customers and there have been zero issues since launch.
To view the webinar, please click here.
If you have any questions about how Marqeta can help you with your supplier payment needs, please contact us.