In my last blog post, I provided an overview of Marqeta and some of the key payment platform features. To quickly recap, Marqeta is an issuer processor and program manager for payments. In this blog post, my focus is how to get started and manage your payments program with Marqeta. There are 4 key areas that I will focus during this blog post — Program Dashboard, Interactive Voice Response(IVR), PCI Widgets, and Marqeta.js.
Program Dashboard — Marqeta's Open API lets businesses manage almost every aspect of their card program. But when your business users need to do the same, that's where Marqeta's Program Dashboard comes in. Program Dashboard allows you to monitor and interact with many aspects of your program through a convenient web interface. Program Dashboard allows businesses to:
Access customizable reports on transaction history, program details, and more. Reports can even be exported, so you can run the data through your own internal processes.
Manage the cards and card users within your program.
Create virtual cards at the click of a button.
Turn on/off Commando Mode, to ensure that transactions continue to process even when your APIs are unavailable to respond to Just-In-Time "JIT" approval requests.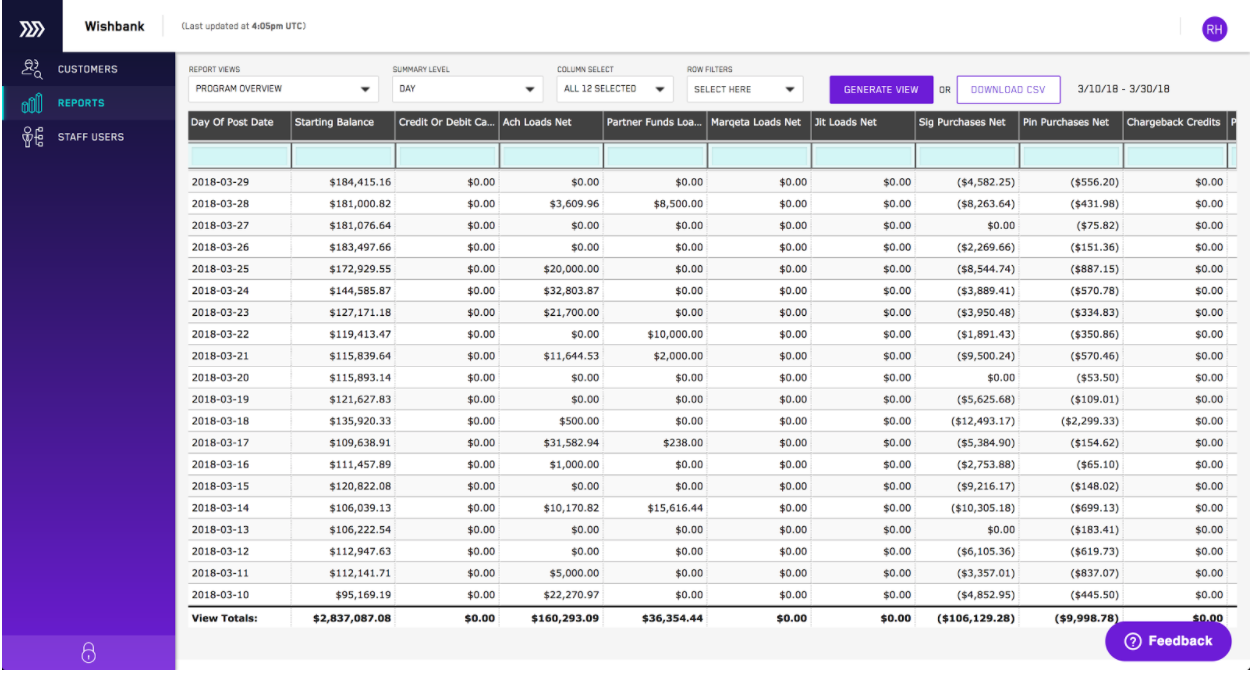 Interactive Voice Response (IVR) — Most of the time, businesses can use Marqeta's API to let their end users manage their cards directly through your mobile app or website. But sometimes it's helpful to have a telephone option as well. Marqeta's IVR solution makes it easy to set up a phone number to provide your end users with the most common card management tasks, with a voice customized to reflect your brand. With Marqeta's IVR Solution, end users will be able to:
Report their card lost or stolen
Check their account balance
Activate their card
Set their PIN
PCI Widgets — Some businesses need to accelerate development, but do not have PCI-compliance certification. Marqeta PCI Widgets allow businesses to meet PCI Compliance certification requirements and accelerate development by taking advantage of Marqeta functionality in their customer web applications. Marqeta customizes the look-and-feel of the widgets based on customer-specific style parameters and offers the ability to customize sizing, fonts, colors and buttons to match your existing website or app design. These widgets are implemented in-line on customer pages via HTML iframes and support key actions — PIN setting, activating cards.
Marqeta.js — Businesses are offering virtual cards as a payment option in web and mobile applications. While they want to provide this option, businesses also want to ensure that the user experience is consistent with the rest of the website or mobile app. Marqeta provides an option to securely present virtual cards. Marqeta.js is a javascript library for PCI compliant virtual card presentment, payment card data is securely transmitted from Marqeta's servers directly to your client application — payment card data is never transmitted or stored on your servers. Technical details for Marqeta.js are available here.
I hope this overview was helpful in understanding of Program Dashboard, IVR, PCI Widgets and Marqeta.js as well as why you need them. In the next few blog posts, I will dive into some of the key features, their use and share some tips/tricks.
Thanks to Marqeta.